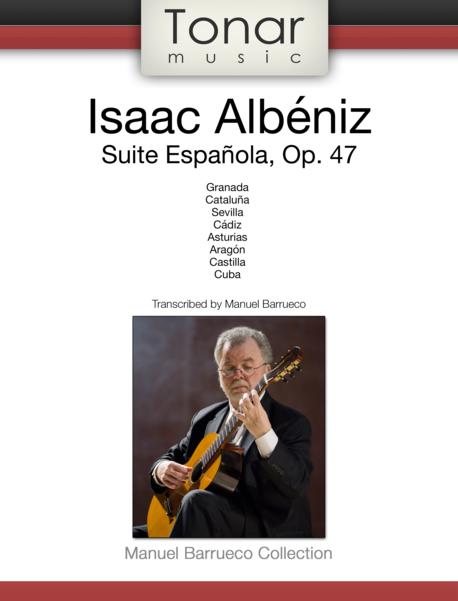 Suite Espanola, Op. 47
Description:
I. Granada (Serenata)
II. Cataluña (Curranda)
III. Sevilla (Sevillanas)
IV. Cádiz (Canción)
V. Asturias (Leyenda)
VI. Aragón (Fantasía)
VII. Castilla (Seguidillas)
VIII. Cuba (Capricho)
In 1981, I published a transcription of the Suite Española by Isaac Albéniz, which I had recorded in 1979. It contained the original four movements of the first published version of the suite: Granada, Cataluña, Sevilla, and Cuba, plus I included Cádiz. In 1992, I recorded it once again, this time including all eight movements of the expanded 1912 publication of the suite. I never published the 1992 version, mostly because I was not quite happy with my transcriptions of Castilla and Aragón. I felt they were difficult to the point of being practically unplayable and did not flow well from the guitar. I knew then that I would want to revise them at a later date to try to make them more guitaristic. Now, more than 25 years later, it is finally done!
Guitarists familiar with my 1992 EMI recording will notice some clear differences between that recording of Castilla and Aragón and this publication. They will also notice some significant changes to Asturias, but the original five movements from my first publication remain almost exactly the same, with just a few small exceptions.
In this edition, I have kept the order of the movements as they were originally published in 1912, though I do not believe that this is necessarily the most effective order in which to perform them. For one thing, it was impossible to preserve the original keys of all the movements as tonality choices are fewer in the guitar than in the piano. The order listed below seeks to avoid repeating the same tonality in consecutive pieces for maximum contrast, with the exception of Cataluña and Sevilla. These two share the same tonality and scordatura. Putting them together reduces the number of times it would be necessary to retune and reduces the potential intonation problems that additional retuning could create. Last but not least, they make a great ending for the suite!
The order in which I have performed and recorded the Suite Española is the following: Aragón, Cuba, Cádiz, Asturias, Castilla, Granada, Cataluña, and Sevilla.
A new recording of this version of Castilla, Aragón, and Asturias is scheduled to be released in 2019 by Tonar Music, on an album of music from Cuba and Spain.
Manuel Barrueco
September, 2018
© 2018 Tonar Music, Inc.
International copyright secured. All rights reserved.
ISMN 979-0-800040-05-4
Cover photo: Damiano Rosa