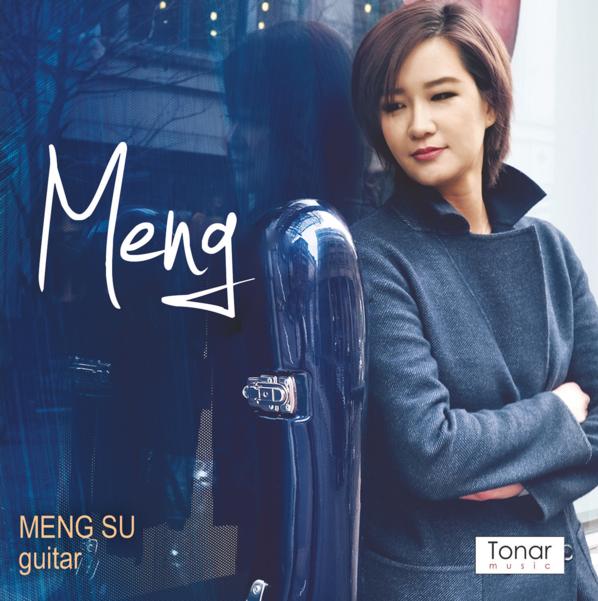 Listen to Samples from this Album:
Meng
Description:
"Meng Su possesses a transcendent technique that is simply awe-inspiring. She brings a special luminescence to these stalwarts of the repertoire. The Tedesco tingles, the Bach glows, and, my favorite–the Walton–is ecstatic. This year's finest debut by far." -Classical Guitar Magazine
The downloadable files are MP3 320 kbps which is the highest quality MP3 files, and incldue the CD cover, liner notes and traycard.
MENG is the first solo CD featuring Meng Su, 1st prize winner of the Parkening International Guitar Competition, one of the leading guitar competitions in the world today, held every three years in Malibu, CA.
The CD includes two works by composer John Williams, the beautiful and moving work "Avner's Theme" which he composed for the feature film "Munich," and which opens the CD.
Other works are Castelnuovo-Tedesco's "Sonata 'Ommagio a Boccherini' Op. 77"; the celebratory 4th Lute Suite by Bach; two little jewels by Tárrega; as well as the "Five Bagatelles" by English composer William Walton.
The CD ends with the seconod work by John Williams, "Rounds," which he composed for the Parkening International Guitar Competition in which Meng Su took the gold medal.
Meng Su, who is captivating audiences around the world with her stunning virtuosity and refined artistry, began studying the guitar at the age of five in China, coming to the United States at the age of seventeen to study at the Peabody Conservatory of the Johns Hopkins University on a full scholarship, in the studio of the renowned guitarist Maestro Manuel Barrueco, who is the executive producer on this recording.

J. WILLIAMS
1. Avner's Theme (from "Munich") [3:41]
M. CASTELNUOVO-TEDESCO
Sonata "Omaggio a Boccherini" Op. 77
2. Allegro con spirito [3:51]
3. Andantino, quasi canzone [5:23]
4. Tempo di Minuetto [3:00]
5. Vivo ed energico [4:04]
F. TÁRREGA
6. Gran Vals [2:47]
7. Rosita [1:28]
J. S. BACH
Lute Suite No. 4 in E Major, BWV 1006a
8. Prélude [3:58]
9. Loure [4:22]
10. Gavotte en Rondeau [3:01]
11. Menuet I & II [4:31]
12. Bourrée [1:46]
13. Gigue [2:01]
W. WALTON
Five Bagatelles
14. I Allegro [3:58]
15. II Lento [3:03]
16. III Alla Cubana [1:59]
17. IV (Sempre espressivo) [2:14]
18. V Con Slancio [2:12]
J. WILLIAMS
19. Rounds [6:04]
Meng, my first solo CD, is finally here and I would like to thank everyone who helped make it possible:
Maestro Manuel Barrueco for his guidance and sitting with me inside the recording studio to squeeze the best out of me. Ms. Asgerdur Sigurdardottir for all her hard work and tremendous support, to Ed, Risa, Anna, and Sophie for their contribution.
Special thanks to Christopher Parkening, and to Maestro John Williams for allowing me to record his music.
Meng Su
Reviews
Meng Su stands out amongst those as one of the very best.
What makes her playing so special is her control of sound–every note is important, every sound is shaped with love and exquisite taste. It's not just her tone–it's also her dynamics, articulation, the transparency or density of the sound, the attention to the functions of multiple voices.