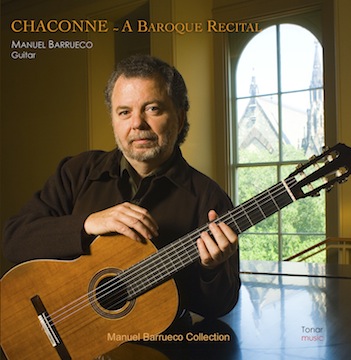 Listen to Samples from this Album:
Chaconne - A Baroque Recital
Description:
J. S. BACH
Cello Suite No. 1 in D Major, BWV 1007
1 Prelude
2 Allemande
3 Courante
4 Sarabande
5 Menuet I & II
6 Gigue
D. SCARLATTI
7 Sonata K11/L352
8 Sonata K32/L423
9 Sonata K27/L449
10 Sonata K474/L203
11 Sonata K531/L430
S. L. WEISS
Suite VII in D Minor
12 Allemande
13 Courante
14 Gavotte
15 Sarabande
16 Menuet
17 Gigue
J. S. BACH
18 Chaconne, from Partita No. 2 in D Minor, BWV 1004
Reviews
[The Chaconne] has become a profound funeral ode here, and [Barrrueco's] performance has a granitic, inexorable progression, the architecture of a great monument. It is among the most powerful I've ever encountered."