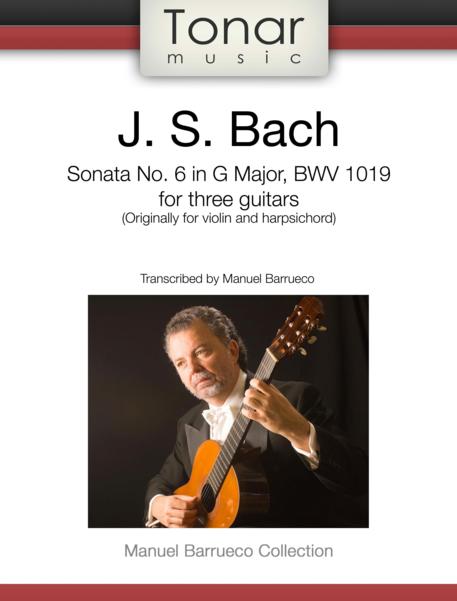 Listen to Samples from this Sheet Music:
Sonata for three guitars (score and parts)
Description:
This is Manuel Barrueco's transcription of the "Sonata No. 6 in G Major, BWV 1019" for three guitars, as recorded on the CD China West (Click here for the CD)
Originally for violin and harpsichord. Fingerings by Manuel Barrueco and the Beijing Guitar Duo.
This edition includes a score (42 pages) and three guitar parts (16 pages each).
"There is more than one version of the Violin Sonata No. 6 in G Major, BWV 1019. In this version, the third movement, Allegro, appears as a harpsichord solo without violin. I have transcribed two possible versions for the performance of this movement:
III (a): (Guitar duo)

The harpsichord solo is transcribed as a duo for guitars II and III, which play the part of the harpsichord throughout the sonata.
Also included is a transcription of an optional short solo violin prelude from the Sonata BWV 1023 for guitar I, which I often choose to play as an introduction to III (a) in concerts and which I recorded (Tonar 40515). I believe that including it adds balance and interest, especially in live performances, and it is consistent with baroque practices.
III (b): (Guitar trio)
The harpsichord solo is transcribed for three guitars so that the entire sonata can be performed as a guitar trio.
A word about the ornaments:
All the ornaments included in this edition are as they appear in the Bach Gesellschaft Edition, with the exception of the ornaments in brackets, which I added."
Manuel Barrueco

© 2015 Tonar Music, Inc.
International copyright secured. All rights reserved.
ISMN 979-0-800040-00-9