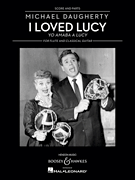 I Loved Lucy
Description:
I Loved Lucy (Yo amaba a Lucy) for Flute and Classical Guitar by Michael Daugherty.
(Score & Parts).
Inspired by the television show "I Love Lucy" (1951-57), one of the most-watched sitcoms of all time. With its Latin percussive guitar grooves and demanding flute theatrics, this work is a musical tip-of-the-hat to the show, and its star, Lucille Ball. 7 minutes.
Guitar part edited by Manuel Barrueco.