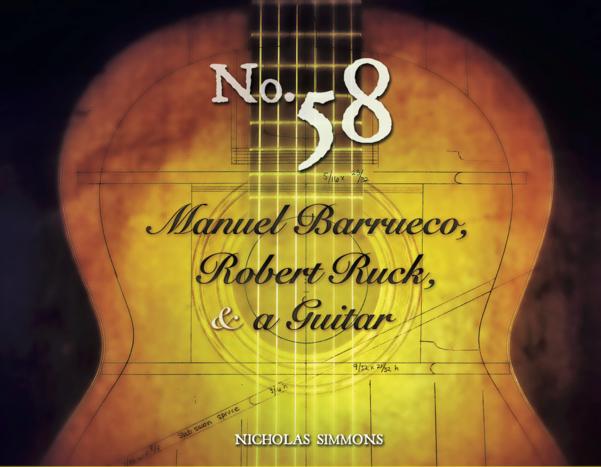 No. 58: Manuel Barrueco, Robert Ruck, & a Guitar
Description:
This is a coffee-table book about Manuel Barrueco's legendary 1972 Robert Ruck guitar.
Part one is an interview with Manuel Barrueco about his life growing up in Cuba, the guitars in his life up until the point he bought the guitar he performed on for more than two decades, Robert Ruck's fifty-eighth guitar. Part two is an interview with Robert Ruck about his life, his professional career, and when he met Manuel Barrueco and sold him the guitar No. 58.
In between the two sections are 14 high quality color photographs of No. 58 taken in 2014 by artist Nicholas Simmons, who also created the cover art for Manuel Barrueco's Virtuoso Guitar Duos and whose poster is available here:
http://www.tonarmusic.com/pages/misc/259/vgd-poster-(medium-15x15_-not-autographed)
http://www.tonarmusic.com/pages/misc/258/vgd-poster-(large-30x30_-autographed)
Note:
Nicholas Simmons passed away during the making of this book. His wife, Olga Simmons, generously handed over the work as it stood and the book was edited and completed by the editor.

56 pages
ISBN 978-0-9974052-0-0