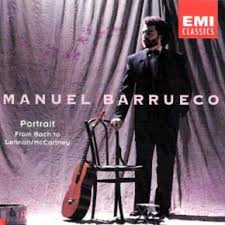 Portrait-From Bach to Leonnon/McCartney
Description:
This CD can only be purchased with other Tonar products, not by itself. Orders of this item without a Tonar product accompanying it, will not be fulfilled. These CDs are "drilled" (have a cut) on the spine of the jewel case.
THIS CD IS THE SAME AS "BEST OF MANUEL BARRUECO" and "PURE BARRUECO"
Same repertoire, released under a different name with a different cover on EMI.